We are very excited and proud to announce that Kathy Aurigemma has been selected by the INFOhio Advisory Board as the recipient of the 2018 Spence White Service Award!
The award recognizes an individual at an ITC for notable accomplishments in promoting INFOhio's vision of equitable access to digital resources for all school children.  In addition to her efforts with INFOhio, Kathy has also been instrumental in helping to establish the Southwest Technology Leaders of Ohio (SWTILO) initiative that promotes technology integration, professional development, and networking opportunities for curriculum, technology and media center school district staff.  You can read the press release from INFOhio here.
Congratulations Kathy!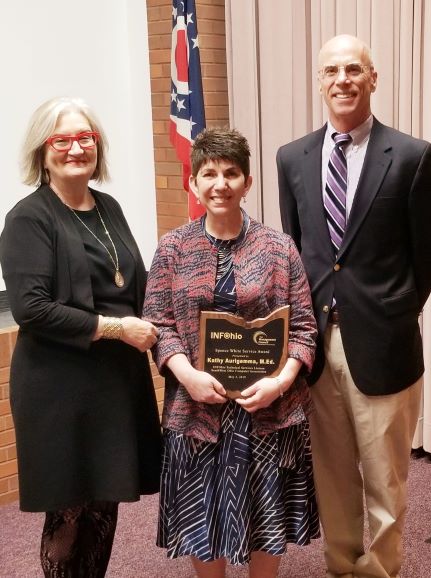 Pictured with Kathy are Theresa Fredericka (L), Director of INFOhio and Geoff Andrews (R), Chief Executive Officer of the MCOECN.